Executive Summary: 
Understanding the most imperative aspect of growing your business
Discussing what it takes to survive in a business market
Discussing the methods to attract maximum people towards your brand
Growing your business and entrepreneurship opportunities in the modern world involves a ton of advertisement. It does not matter what kind of business you have undertaken, without the proper promotion and without selling yourself and your business, you are not going to get anywhere in this cut-throat world; and a major portion of your promotion events has to be done online these days because after all, it's the era of technology!
In this world of technology-aided promotions, one of the best and (even better) free platform to get your stuff known among people is the famous app – Instagram. With over a billion users a month and its interactive features such as stories and IGTV videos, it would take a fool to not grow their network on the social media platform and only a true businessman would know the power of a pipeline/network. But the bigger question is how to get more followers on Instagram? Well, we have decrypted the answer for that exclusively for you. Take a look:
Have a complete and optimized profile
If you want that people should be forced to hit that follow button, you need to entice them to do so and the way to do that is to make sure that your Instagram profile is complete in all senses- a proper profile picture, a catchy bio, some story highlights, some active stories; all of which give away a professional look to your feed and the visitor automatically follows your page within a couple of seconds of scrolling. Following is an example of a complete business profile:
Have good quality and edited photos as your posts
Instagram is all about your feed for it is the only parameter on which you can be judged. As such, it is imperative that everything you choose to upload (does not matter if it is in the form of photos, videos, stories, or IGTV videos) is of the highest quality and edited professionally. Also, refrain from clicking pictures on phones and prefer professional photography over it. Witness the difference between amateur and professional level photography and decide for yourself which would have more impact on a professional page-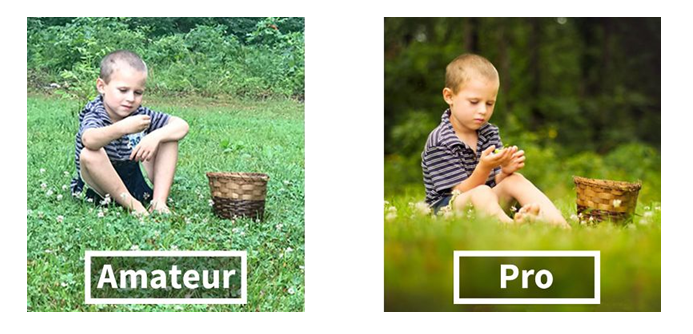 Have a regular posting schedule
Before you start gaining followers, make sure that you have some quality photos on your feed to attract people at the very least and have them believe that you would be posting similar quality stuff in the future. Once you have a few hundred followers to your name, you should download a calendar template and start phasing out Instagram posts in a timely manner that suits all of your followers and at a frequency that is enough for people to stick around with you; if you post too frequently, people would unfollow your account thinking that you are spamming their feed and if you post very less, people are again bound to unfollow thinking that you have gone haywire.
Use hashtags and locations
Thanks to Instagram hashtags, stickers, and other creative tools, brands now have the chance to be more creative with their content and even be more specific about themselves. Such tools are the icing to your cake and are bound to generate more traffic to your page for everything on Instagram is now recognized with the hashtags associated with them and for an up and coming business, the best way to get listed on the Explore page is to use all the appropriate hashtags in their content captions. However, don't overdo them too.
Interested in increasing your followers on Instagram, checkout our Instagram Services.