Executive Summary:
How to keep people hooked with your brand
Why it is imperative to keep your Instagram profile updated
How to keep your brand name updated with all sorts of posts and stories without going through much trouble
For a business account on Instagram, the best and the most effective, tried and tested method to grow your business and expand your reach in the world (through followers) is to keep your feed fresh with new content on a regular basis. However, that comes at some costs; with time and productivity being the primary factors taking the hit and the best way to make up for the same is to seek help from something known as Instagram schedulers.
Why schedule IG posts?
Let's get down to the crux of the situation. We saw and discussed; actually discussed is an overstatement; we stated that scheduling your Instagram posts for later can save you time and allow for increased productivity. What we did not see and understand is 'how'. Once we answer that very how, you will get the bigger picture as to why you should use an Instagram scheduler and how at the end of the day, it would work out in your best interest only.
Think rationally for a second from the perspective of an individual rather than a business owner here. On an individual level, how much time does a person take to post that 'perfect' picture of theirs? Firstly, you need to rummage through thousands of pics in your gallery and come to a consensus on which one is the perfect fit for the ideal post. Then you need to edit it to give it a more picturesque appeal. Then you need to think of a befitting caption and the proper hashtags. All in all, this entire procedure easily consumes at-least 30 minutes.
Now imagine; this was the scenario on an individual level where you approximately post 1 picture a week. As a successful entrepreneur on Instagram, you need 4-5 posts a day at the very least. How much time is that? I'll leave the mathematics to you. Now think if you would have invested the same time in something else, your business would have become more productive in one manner or the other.
How to schedule posts
We answered the why. Now let's answer the how. The answer is fairly simple. The procedure, however, is a bit technical. To schedule Instagram posts, you just need to decide upon an Instagram scheduler such as Later, Zoho Social, Buffer, etc. which is nothing but a service provider to take care of your scheduled posts. Most of these platforms work in an almost similar manner:
The first step involves finding the best time frame to garner maximum views for your post. You can get an idea of this by Instagram Insights but only if you have a business account which can be confirmed from the toggling the 'Switch to Business Profile' as shown: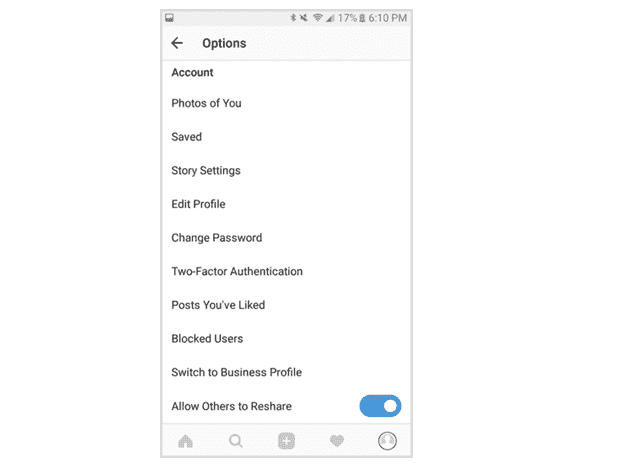 The next step involves you collecting and storing all your clicked photos on your service provider's cloud platform which can be used whenever you are ready to post. The same goes for captions, hashtags, emojis, stickers, etc. You may even organize and segregate them with suitable labels.
All such platforms also give you a planner where you can arrange your pictures to get an idea of how your post would appear. In case of multiple photos, just keep rearranging them till you find a proper flow to the images. This makes your feed visually appealing to the visitors who are left with no choice but to fondle the follow or the like button.
Interested in leveling up your Instagram? Get $1 likes & $2 followers Now!