Executive Summary:
A comprehensive guide on Instagram analytics
How to interpret different metrics
Ways to tailor your strategy based on your metrics
The function of LightingLikes in achieving it
Introduction
If you're an amateur fashion blogger, food blogger or other types of blogger on Instagram, then the most important thing is to engage your visitors and gain more followers. Instagram has backed you up by introducing Instagram Analytics. However, you need to know how to interpret the metrics and come up with better strategies to ensure your followers don't 'unfollow' you. No worries as we've got you covered with everything you need to know so that it will help you in refining your content for better traffic. Once you've become a pro at analyzing and evaluating the data, undoubtedly you will be among the top blogger's list.
1. How to interpret the metrics?
If you have a business account, then it's easier to get your hands on Instagram Analytics. It's always better to have a business account, whether you're starting anew or not.
Three essential tabs tell you everything about your audience. We'll take a closer look at each one of them.
2. What can you understand from the audience tab?
Here, you'll learn more about your audience right from their age and gender to their location. You can check your follower's rate.
If you're having visitors of age group 20-30, you can tailor your content to engage that particular age group.
If you have got the US audience, then you can adjust your strategies and look at target them more.
3. How does the activity tab help you understand customers?
Now this will tell you when your content is viewed whether on Fridays or Mondays, depending on which you can post your content.
Another significant aspect is the 'Impressions' and 'Reach' They tell you about the total number of views and unique views of your posts, respectively.
4. Check what type of content your audience like using audience tab
Whether you post videos, quotes, or high-grade pics, you can find out what type of content your followers like the most.
Once you figure out, then you can uncover better ways to engage your audience.
It saves a lot of your time which otherwise you would keep posting and yet not realize what's going wrong.
5. Strategizing based on the information available
Once you have learnt to understand the demographics, now it's time to start working on your content and level up your strategies.
You should keep in mind that it's not easy to gain loyal followers if a single post of yours gets the most traffic.
Every day is not a good day until you set the right goal and target with the right content.
That said, once you get it all figured out, you will have a good amount of followers who would be waiting for you to post every day.
It's always better to go with the trial and error method so that you reach your audience on a deeper level.
6. How does LightingLikes help you achieve it?
LightingLikes will help you in getting more followers for your posts, and you can gradually work on building your content.
Once your audience sees a spike in the number of your followers, without any doubt, they will be engaged with your content, and that's when you can enhance your strategies.
There are numerous packages you can choose from and get the best deal from LightingLikes.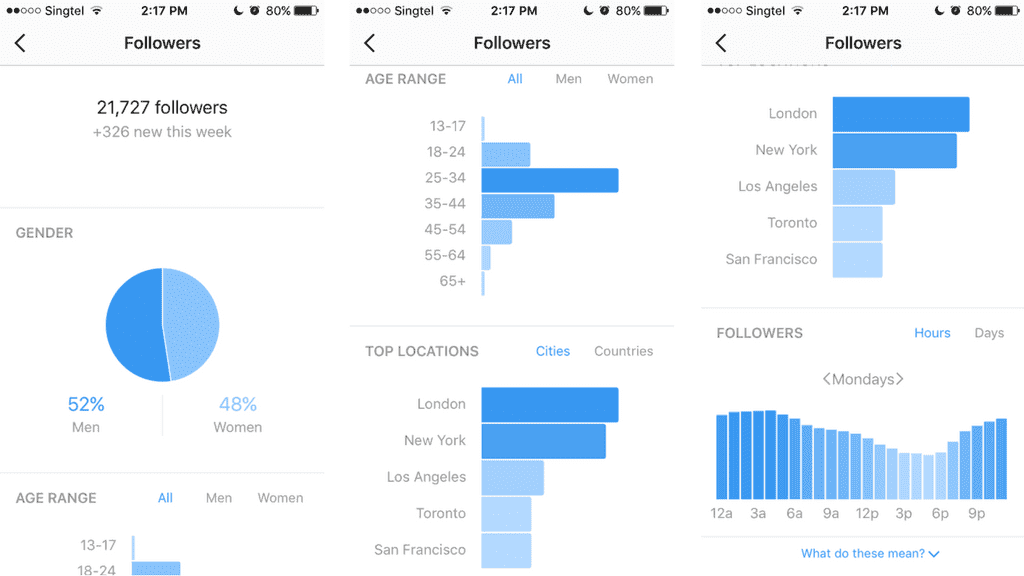 To sum it up
Instagram Analytics has already helped tons of bloggers and influencers in understanding their audience well and if you desire to be a part of this awe-inspiring world, then it's time to pull your socks up and gain insights into the treasure trove of analytics so that you too can get a loyal following from around the world.