Executive Summary:
Adding the perfect hashtags to your Instagram post is a simple and inexpensive way of boosting your post and profile
Deep research is required to understand the types of hashtags that can lead to your post becoming a viral phenomenon
Even after collecting the ideal hashtags, one needs to organize them and add them to the post at the perfect time to gain more genuine likes and followers
Using the perfect hashtags can actually make or break any post on Instagram
Introduction
There is no denying the fact that hashtags have now become a part of our daily life majorly due to Instagram. These hashtags play a pivotal role in making your post go viral or even establishing your brand in this huge world. In order to boost the number of followers and boost your profile, choosing the correct hashtag is hence, extremely important.
According to recent statistics, every hashtag is equivalent to about 12 percent more engagement in your post. You can do the mental math and comprehend what only eight appropriately chosen hashtags can do to boost your post as well as profile.
Choosing the correct type of hashtag is similar to defining the domain of your post and targeting a particular type of audience. Hence, you need to be very choosy about the hashtag you are going to use for a post.
If you own a business profile, you will be able to analyze the specific insights of any hashtag that you have used. Once an analysis has been made, you can look for the most popular hashtag and then use it to boost your post. This can be easily done by using the many Instagram APIs available on the Internet.
After 2018, you can also follow a certain hashtag. In case you make a post pertaining to the same, you can use the same hashtag and boost the content that you have created in support of that hashtag. If you are lucky enough to make it big, you can start a unique hashtag and inspire your followers to use the same hashtag and make it popular.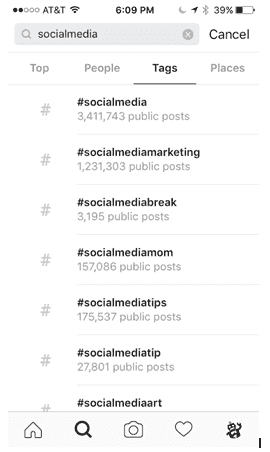 Nowadays, business establishments can also add hashtag links and place them in their Instagram bio. This allows the audience to visit the official website and hence, allows a greater influx of customers to the overall business.
If you want to be discovered in a community quickly, the best possible way is to add numerous hashtags to continuous stories. This makes you a part of a community with like-minded people quicker.
There are different types of hashtags that can be used in your regular posts as well, such as community hashtags, branded hashtags, and campaign hashtags and many more.
There are a number of other techniques as well that can be used to make a particular post popular such as researching about the perfect hashtags that are relevant to both your content and your followers, organizing these hashtags and then posting the actual post at that particular time when your followers are most active.
We hope that this article was helpful and you were able to understand the efforts that one needs to make even for the loosely placed hashtags after the caption for an Instagram post. If you want to understand this concept better, you can visit the given link to get further details: https://later.com/blog/ultimate-guide-to-using-instagram-hashtags/.