Executive Summary:
Instagram has introduced the Video Chat feature.
You can video chat following some simple steps.
Lightning likes will extend your Instagram popularity.
Instagram has recently come out with its video chat feature. In recent times, Instagram has emerged as the prominent choice of all social media freaks. More than 1 billion people use Instagram regularly, and thus it is quite natural that newer features will be incorporated now and then.
1. How to start Instagram Video Chat
Everything as simple as it could be.
Update your app, and get hold of the latest version on your Android.
Now, open the app, and swipe left to reach Instagram Direct. You can even tap the arrow icon. It is present right in the top-right corner of your profile.
Are you already having in mind someone to video chat with? Just open the message thread. You will see the camera icon, now added on the top-right corner. Just tapon it, and you're done!
If you want to make a video chat with someone new:
Tap on the add(+) icon present on the Instagram Direct page.
Type the username of that person.
Open the message thread.
And the rest goes the same simple way.
Again, if your message thread has more than one person, a tap on the video call will invite everyone present in that message thread.
2. More About Instagram Video Chat
Video chat is relaxed, but what if it doesn't allow more than one friend to chat with? Argh, that's not fair! Well, Instagram's Video Chat feature does not attempt to disappoint you. You can add four people for your group video chat, chatting with them at the same time.
Also, the screen will adjust the faces of all four of you. So, throughout the chat, you will able to see each other's' faces and reactions.
If there is a group thread of which you're a part and an active video call going on, your camera icon in the message thread will turn blue. Tap and camera, and you join the call.
3. Security Features
You cannot make a video chat with any random person! So, if you picked up someone from your list of followers and wish to video chat with that user, NO, you cannot. For starting a Video chat, you need to be actively DMing that user on Instagram.
In short, no message thread, no video chat feature!
Some usernames make a place in the block list. You may have chatted with them at some point or the other. Thus there are message threads, but that doesn't matter if you have blocked them. Instagram will not allow them to video chat with you.
4. Keep browsing while video chatting!
Do you want to post some Instagram story while having a video chat? Well, Instagram's video chat has that feature for you too.
Tap the minimize button that you will spot in the top-left corner. Instead of a full screen, there will appear a small rectangle is showing your friends' faces.
Say hello to multitasking, and keep on scrolling your Instagram feed without any hassle.
Will my friends see my screen while I video chat and browse? NO, they will see your face. They will have no idea what you are doing on your screen.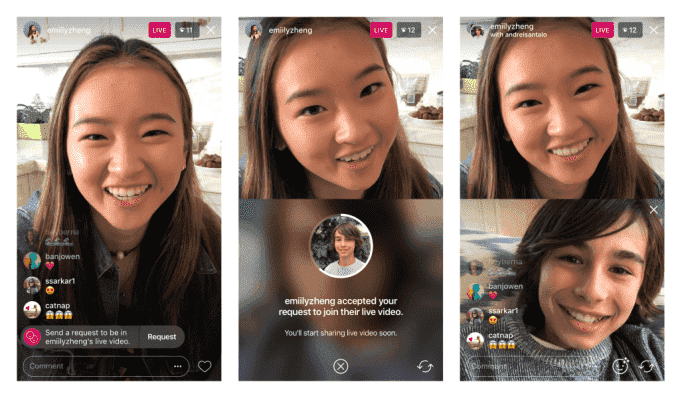 Lightning likes
Who doesn't want to connect with more and more people? Make the best use of the video chat feature to widen your circle and extend your popularity.
Grab more followers, and this will lead to more likes and comments, thus strengthening your engagement.
Lightning Likes are here to help you with buying Instagram followers and likes. At price scales that you can afford, their services allow you to have the best Instagram experience. To know more, click here, or visit http://lightninglikes.com/.
Conclusion
It is well expected that this video chat feature will bring huge success to Instagram. Besides friendly video chat, we can anticipate that this feature will soon be used in the commercial arena.